McGill lecture by Roger Scruton now available online via CBC Ideas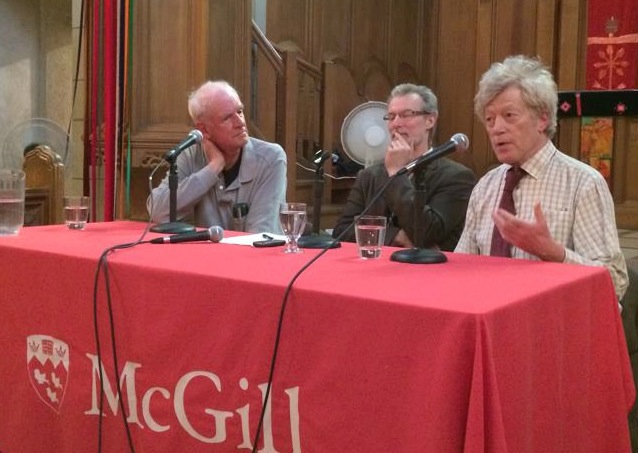 Charles Taylor (left), moderator Douglas Farrow, and Roger Scruton discuss philosophy at McGill University on April 13 as part of the conference called "Thinking the Sacred with Roger Scruton". (Photo: C.S. Morrissey / The B.C. Catholic)
C.S. Morrissey reported for
The B.C. Catholic
in April on a philosophy and religion
conference held at McGill University
that was devoted to beauty and the sacred:
"Without sacred space for beauty, there can be no true love"
Paul Kennedy subsequently interviewed Roger Scruton for the CBC Ideas radio program and it is now possible to listen to this program online or to
download the MP3 audio file
of it.
Roger Scruton's opening lecture at the conference, "A Transcendental Argument for the Transcendental," is also now available online via CBC Ideas at their
Scrutinizing Roger Scruton
Web page.
Scruton's lecture is available in three parts: [
Lecture — Part 1
] [
Lecture — Part 2
] [
Lecture — Part 3
].
The conference also included performances of musical compositions by Scruton that are additionally available online: [
Three Lorca Songs
] [
Boreas Blows Not
] [
The Minister
].
Scruton is the author of
over forty books
, most recently
The Soul of the World
and the novel
Notes from Underground
.